Initially formed as a studio project in 1992, Braindance began writing material and subsequently performing their unique blend of music in venues in and around the New York City area, inadvertently constructing a new genre of music that transcended categorization - Progressive Darkwave. Combining the musical elements of goth, progressive metal, industrial, doom, darkwave, progressive trance, and modern classical music with the lyrical elements of mental illness, science fiction/fantasy adventure, and the plight of man versus machine/versus man/versus god/versus himself, Braindance quickly became one of the most distinctive voices in the New York City underground. In 1994, Braindance released the mini-EP Shadows.

The following year, however, joined by keyboardist/backing vocalist Robynne Naylor, the band released Fear Itself, featuring superior song structure and heightened production qualities. Considered by many to be 'a new rung on the evolutionary ladder of modern progressive music,' Fear Itself was embraced by listeners who demanded more from their music. Boasting unparalleled originality and creativity, Fear Itself mesmerized audiences worldwide by delivering an intense, emotional masterpiece, complete with unforgettable songs, immense melodies, stunning performances, and a new soundscape never before experienced. Through word of mouth, live performance, and the overwhelming support of independent, underground press, radio, and fans worldwide, Fear Itself became one of the largest selling and most respected self-produced discs anywhere.

Following two years of performances supporting the CD, parting ways with long-term drummer Notorious, and replacing bassist Eiki Matsumoto with Chicago native Andy Calcina, the band began the process of creating their long-awaited follow-up to Fear Itself, Redemption which was finally released in 2001 !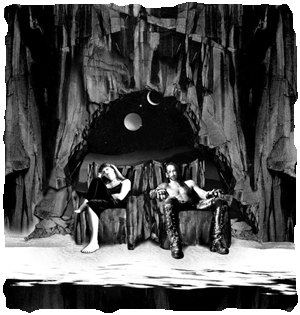 Braindance are (from left to right):
Vora Vor - guitars, backing vocals, programming
Sebastian Elliot - vocals


Robynne Naylor - keyboards, backing vocals, violin, viola
Andrew Bunk - bass
Stygmie von Skunk-A-Loohvff - percussion

Contact information:
http://www.progressivedarkwave.com/
braindance@progressivedarkwave.com
Current album:

"Redemption"
RealAudio Sample